Discussion Starter
·
#1
·

The holiday season is around the corner, which means it's time to get presents for your loved ones and yourself. Enjoy your Thanksgiving turkey and happy shopping at MOTORCYCLEiD.com from the comfort of your home. We've comprised the list of best deals and promotions from top brands, leaders in their market segments available in our store. Save big and enjoy your shopping experience while the offer stands. Prices are already reduced. Click the image to enter the catalog of the products from the brand you like.
K&N Motorcycle Air Intakes & Filters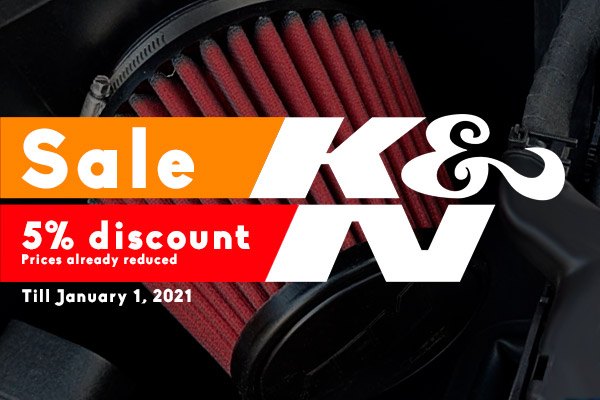 Just like a human being, your bike can't live without air. Combining years of experience, the latest innovations, and a passion for performance, K&N is the leader when it comes to air intakes and air filters. Take 5% off when you shop these high-quality products right now! Don't wait! The sale is active till January 1, 2021.
Shoei Motorcycle Helmets & Accessories Black Friday Sale!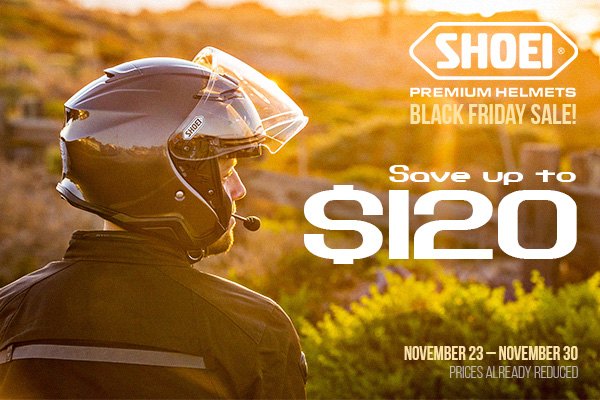 A little motorcycle ride is always good, it's still better when you're well protected and have an inimitable look! Purchase a high-quality Shoei Helmet with up to a $120 discount. Hurry up, don't miss your chance to buy a world-class helmet and save your money in the process. The offer is valid till November 30, 2020.
Hotbodies Racing Windscreen Closeout!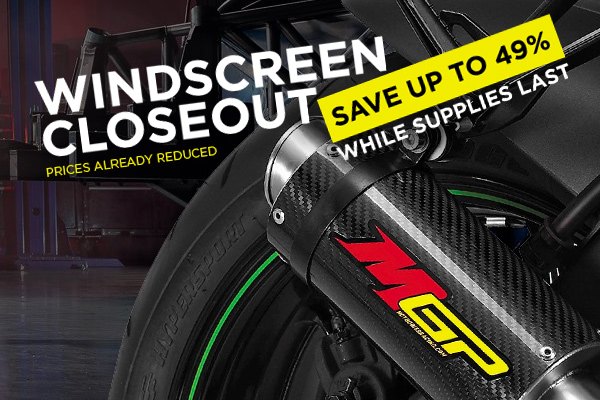 Windscreens from Hotbodies Racing, are specially shaped to out-perform the competition both on and off the track! By employing a pressure and vacuum formed method, and using optically correct high-tech modified acrylic, these screens are considered the best on the market and now you have an opportunity to buy select windscreens with up to 49% discount. Hurry, take advantage of this fabulous deal. The offer is valid while supplies last.
Leatt Closeout Sale!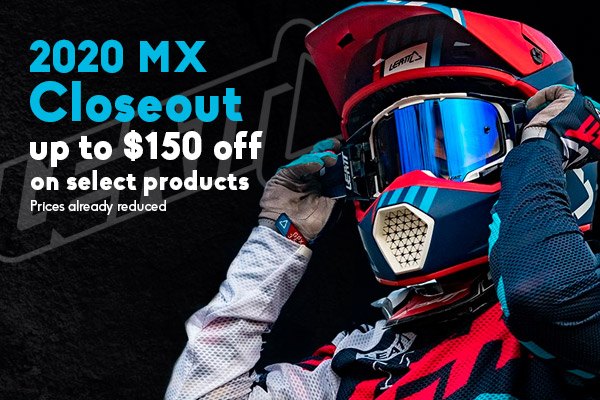 Just now and only for you, Leatt presents the new Closeout Promotion! Purchase high-quality Leatt products to save up to $150 of the original price. Hurry up, Leatt works to keep the committed Thrill seeker safer.
Motorcycle Boots by SIDI discounted up to 68%!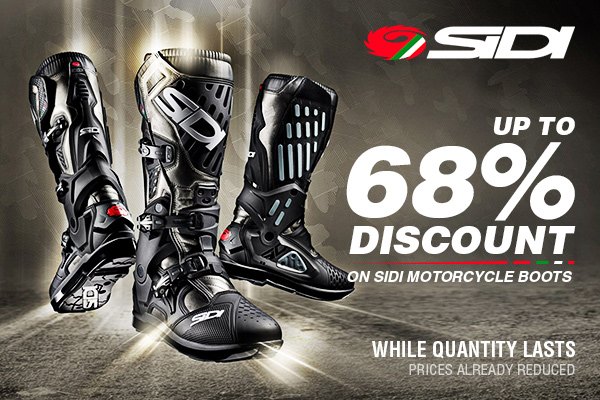 SIDI Boots are the pinnacle of motorcycle boots and footwear – the finest ever made. Shop the largest selection of SIDI Motorcycle Boots and save big – up to 68% off! You have a great chance to find the best boots of innovative design, elegant style, and optimal comfort for any purpose, from touring to the sport-racing. Hurry up!
Best Suomy Helmets Deal!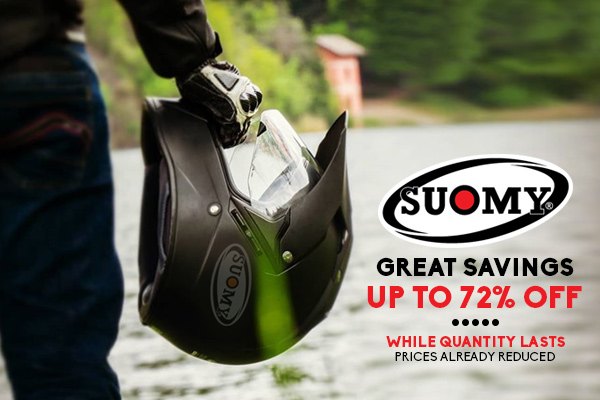 When you hit the road, track, or trail on your cruiser, dirt bike, sport bike, or ATV, you must feel confident and secure to get the most out of your ride. Don't miss out on our fantastic offer – up to 72% OFF on all Suomy Helmets! These products are designed to fit great and provide ultimate protection from riding hazards. This is the best time to make your purchase! Buy Suomy branded helmets and get the best quality at the lowest prices with us!
New TOBE Closeout– Lower Prices!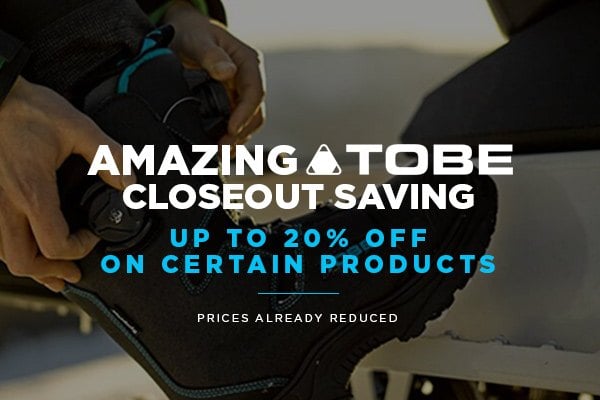 If you need clothing that will always keep you warm, dry, and safe in whatever snowsport you pursue and wherever your adventures lead, then Tobe is the best choice! They make extremely resistant clothing for people who enjoy accepting challenges, regardless of whether it is on the ski slopes or the snowmobile track. From today, you have a great chance to save up to 20% on TOBE Closeouts! Don't wait to snatch up your savings. Grab them while you can!
O'Neal Closeout Riding Gear and Helmets on Sale!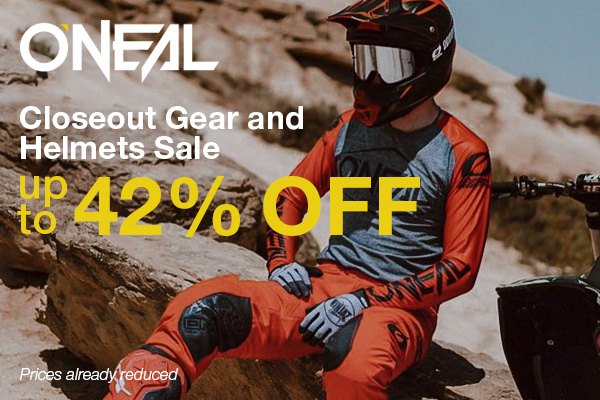 Don't miss out great offer from O'Neal and enjoy the ride. This closeout sale gives you a chance to purchase a product you've been dying to get your hands on before it's gone. Just choose your favorite high-quality boots, pants, jerseys, shorts, helmets, gloves, accessories, and save up to 42% off. Make your purchase today and never miss a sale!
Last Chance Closeout from Joe Rocket!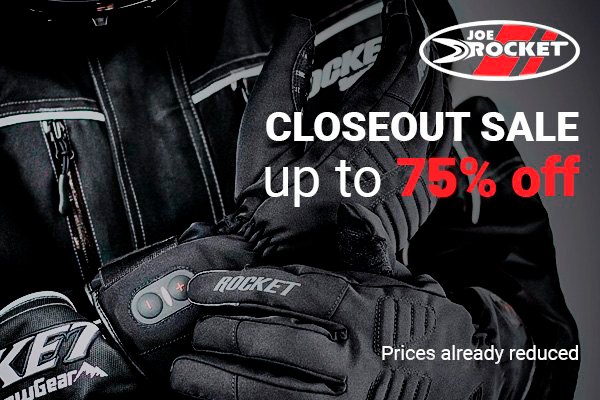 Have you had your eye on a Joe Rocket Jacket or maybe there was a Joe Rocket helmet you've been waiting for to go on sale? Well, look no further than our Joe Rocket Closeout sale where you can find helmets, jackets, gloves, and vests at discount prices. Choose from a wide range of popular products and receive an amazing 75% off discount.
Forma Boots Blowout Sale!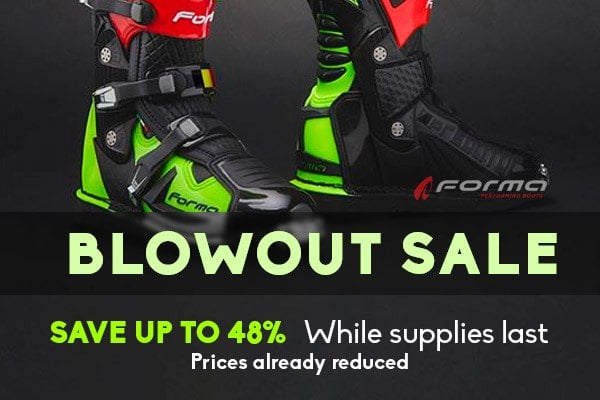 We are pleased to announce an amazing Forma Boots offer. You have a great chance to buy a comfortable and durable product saving up to 48% Hurry up! The offer is valid while stocks last.
To browse all categories of products available at MOTORCYCLEiD.com, simply click the "Shop Now" button below:

If you have any questions, feel free to contact us here or call our tech experts at 888.903.4344​