B3/4/6 Regulator plugs Check
---
I have a B4 and while I was cleaning the air filters, I decided to have a quick look at the stator to regulator plugs, on close inspection I noticed that the one nearest to the regulator was changing colour from Yellow to brown indicating that it was getting hot.
I stripped open all 3 plugs and all the contacts were good, so could only assume that the reason it was getting hot, was the fact that the black heat shrink on the loom was right up to that plug, where as the others were more open.
I decided to cut back an inch or two of the Black insulation to help keep the wire cool. Hopefully, I've caught this before any problems like a melted plug occurred.
Just thought you guys with the later B's might like to know about it.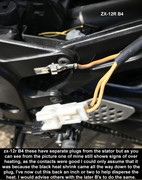 ---
For Tech Questions Bike Model letters and Country are more useful than saying the year, for UK owners anyway, as registration year is not always the year of manufacturer model.
Cheers, I'll have a look..
---
2006 ZX-12R B6F
Ohlins / TRAXXION Dynamics / NISSIN / HEL / Power Commander / Bear Racing / Akrapovic / BMC / Muzzy / Healtech / ERMAX / Helibars / GSG / R&G / NUI Racing
Had a look at my brother's today and all good! 24k km's on the clock.
In the middle of doing major service, and remembered this thread whilst everything was apart!
---
2006 ZX-12R B6F
Ohlins / TRAXXION Dynamics / NISSIN / HEL / Power Commander / Bear Racing / Akrapovic / BMC / Muzzy / Healtech / ERMAX / Helibars / GSG / R&G / NUI Racing